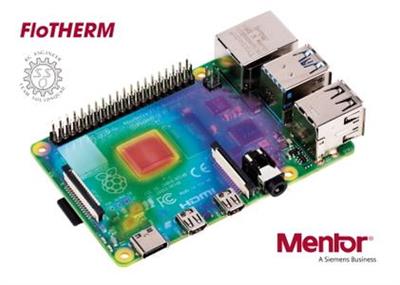 Siemens Simcenter FloTHERM 2019.2 | 1.5 Gb
The Mentor, a Siemens business, is pleased to announce the availability of Simcenter Flotherm 2019.2. This software creates a thermal digital twin of an electronics product that is capable of simulating temperature and airflow.
[b
Simcenter Flotherm Release Highlights - Date: December 2019
[/b]
Improving Productivity and Workflow
- Redesigned results analysis mode, capable of producing Descriptions and tabular data orders of magnitude faster than before
- Post-Processing Automation and Intelligence
- Full visual results in the parametric Command Center tool.
This group of enhancements substantially reduce the engineering time required to inspect simulation results.
Enhancing the Thermal Digital Twin
- Multiple temperature sensor support for Power Controller object
- Semiconductor materials: Tabular definition of thermal conductivity variation with temperature
These enhancements improve the ability to include semiconductor materials and power control strategies in the thermal digital twin.
This file () lists all the new and updated features and also bug fixes that are available in this release.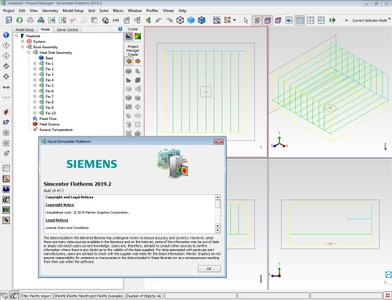 The powerful FloTHERM suite of 3D computational fluid dynamics (CFD)
software predicts airflow and heat transfer, in and around electronic equipment. FloTHERM delivers right-by-design products that save design time and reduce the need for physical prototyping from components and boards to complete systems and data centers.
FloTHERM
is the market-leading electronics cooling simulation software with more installed seats than all other electronics cooling CFD software. For over 25 years FloTHERM has supported a huge customer base, including almost all the major blue-chip electronics companies in the world. FloTHERM supports chip, package, board and system design, and even extends out to datacenters. It is designed as a vertically-specialized solution for the electronics thermal market through its innovative SmartPart technology, extensive libraries, tailored and stable solution technology, state-of-the art compact thermal modeling techniques and parametric analysis & optimization functionality. FloTHERM features advanced interfacing technologies for working with EDA data from Mentor Graphics, Cadence and Zuken and is backed by a family of ancillary solutions for PCB (FloTHERM PCB) and package modeling (FloTHERM PACK and FloTHERM IC).
The latest enhancements for Simcenter Flotherm 2019.2 electronics cooling simulation, improve design productivity and workflow by reducing engineering time required in post processing, by several orders of magnitude. Post processing enhancements include: a redesigned results analysis mode; post processing automation and intelligence; plus full visual results within the built-in parametric Command Center tool. To enhance thermal digital twin modeling fidelity, in transient power control strategy modeling there is multiple temperature sensor support for Power Controller objects, and for improved modeling of semiconductor materials a new tabular definition of thermal conductivity variation with temperature.
WHAT'S NEW Simcenter Flotherm 2019.2
Mentor Graphics,
a Siemens Business, is a world leader in electronic hardware and software design solutions, providing products, consulting services and award-winning support for the world's most successful electronic, semiconductor and systems companies. We enable companies to develop better electronic products faster and more cost-effectively. Our innovative products help conquer complex design challenges. Mentor is technology leader in full chip emulation, Functional Verification, Design-for-Test and physical verification with its Veloce, Questa, Tessent and Calibre platforms.
Product:
Siemens Simcenter FloTHERM
Version:
2019.2 build 19.47.3
Supported Architectures:
x64
Website Home Page :