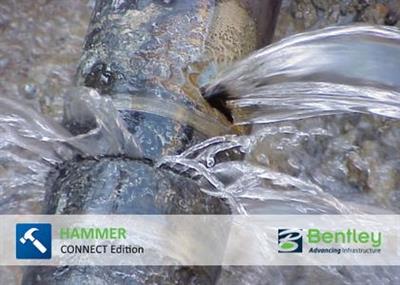 OpenFlows Hammer CONNECT Edition Update 3 (build 10.03.01.08) | 962.9 mb
The Hydraulics and Hydrology software development team are pleased to announce the availability of OpenFlows HAMMER CONNECT Edition Update 3 (build 10.03.01.08). This release introduces improvements and features to help you be more successful.
[b
What's new in OpenFlows HAMMER CONNECT Edition Update 3 (build 10.03.01.08)
[/b]
Enhancements to Change Tracking
The ability to archive change tracking data has been added. This can help with situations where including change tracking data may otherwise increase the size of the model's database file to a great extent. (for example the .SQLITE file could grow to many gigabytes in size)
Enhancements to Crossing Pipes Query
The Crossing Pipes query in Network Navigator has been enhanced to accommodate different types of pipes. If you open the Crossing Pipes query in Network Navigator, you will see options for All Links (which will analysis all pipes and laterals), Current Selection (which will only analyze links already selected in the drawing), Pipes (which will analyze only pipes), and Laterals (which will analyze only laterals).
Improved GIS-ID based ModelBuilder Importing
Improvements have been made to ModelBuilder imports using GIS-ID, which will make creating and updating models based on GIS-ID easier and more successful.
OpenFlows HAMMER
makes the complex tasks of locating potential trouble spots and determining appropriate surge control strategies much easier.
Every time a pump or valve is operated, potentially dangerous transients are introduced in your water distribution or wastewater system. Unchecked, transients can have catastrophic consequences on your pipes and equipment, operators, and customers.
Water utilities, municipalities, and engineering firms around the world trust OpenFlows HAMMER's computationally rigorous engine and easy-to-use interface to efficiently identify, manage, and mitigate the risks associated with transients.
Identify critical points in the system that need protection and facilitate sound system design with OpenFlows HAMMER modeling tools:
-
Focus on mitigating surge,
not on the modeling process: Streamlined model building and management enables you to jump-start the model building process and manage your model effectively, so that you can focus on developing the most appropriate strategy for controlling and limiting hydraulic transients.
-
Simulate transient precisely
to improve the quality of your decisions: Decrease the risk of approximating the behavior of protective devices and rotating equipment. Rough estimation of transients can be too costly. OpenFlows HAMMER helps you accurately simulate the impact of a wide range of surge protection devices and rotating equipment (pumps and turbines).
-
Leverage existing CAD and GIS data
for improved design productivity and to enrich the system or model that utility personnel rely on.
In this presentation you will be introduced to Bentley's OpenFlows HAMMER and learn the basics of a transient analysis.
Bentley Systems, Incorporated
is the global leader dedicated to providing architects, engineers, constructors, and owner-operators with comprehensive architecture and engineering software solutions for sustaining infrastructure. Founded in 1984, Bentley has nearly 3,000 colleagues in more than 45 countries, $500 million in annual revenues, and, since 2001, has invested more than $1 billion in research, development, and acquisitions.
Product:
OpenFlows HAMMER
Version:
CONNECT Edition Update 3 (build 10.03.01.08)
Supported Architectures:
32bit / 64bit
Website Home Page :